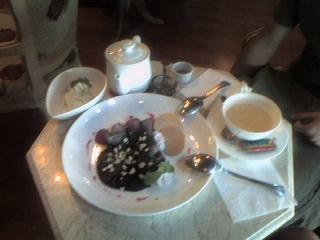 It has been a long time since I have been there.
However, due to a twist of fate (or rather, a twist in the eccentric weather during December), Max and I went to The V Tea Room for some relaxation.
And ended up with my all time favourite, the Turkish Apple Tea, and the melt cake!
However, instead of having my usual mango melt cake today, I tried another favor with contains 2 of the fatal ingredients that can 'kill' me: Chocolate and Cheese!
Wah!!! This chocolate cheese melt cake literally melt me~~! The thick dark chocolate cake with the dark chocolate melt, and having cheese cubes in the cake~~ woah~~ this is so sinful that I will willing to die for it! However, I forgot the name of the cheese that is inside (but what I remembered that it is some sort of creamy cheese) but it is F-A-B-ulous!
As usual, the store manager (I guess) Amy was there with her megawatts smile and excellent service which makes your day~! I was so impressed with her where she can actually remembers the likes and dislikes of her customers despite of the number of customers she has everyday! GEMS should present her an award for setting the standard, or rather exceeding the standard in the service industry!
Anyway, had a haircut by Max, which was, in my humble opinion (I was telling a friend how I wanted to put this phase down, so fun *lol*), excellent and wonderful! However, forgot to take a photo of my hair, which I shall do it in due time soon.
Anyway, was a great day, at V Tea Room, and talking nonsense and bickering nonsense with Max today. It was a damn great day especially when we had not meet up for sooooooooooo looooooooooong.
Anyway, *8* mooooooooooooore days~~~~~