Sorry for the lack in update recently, as I was busy preparing my shop opening at Suntec City.. Anyway to all readers, here's the signboard of my shop!!!

..
..
..
..
..
..
..
..
..
..
..
..
..
..
..
..
..
..
..
..
..
..
Ok. I lied.
..
..
..
..
..
..
..
..
..
..
..
..
..
..
..
..
..
It wasn't really my shop. But the shop of my favourite ice-cream… Ben&Jerry's!!
Yes! You can get fresh B&J's ice-cream now off a parlour, instead of those frozen tubs of ice-cream off the supermarket!! Cheerio to the guy who bought in the franchise into Singapore! (Although I had forgotten your name even thou you were on paper some weeks ago)
However, due to the huge crowd and reaching closing time (that's explains the shutter coming down), I did not get to savour the marvellous, heavenly ice-cream.. Do they have my favourite 'New York Chunky Fudge' (or sometime like that)? Shall go and enjoy it someday… although it's going to kill my diet!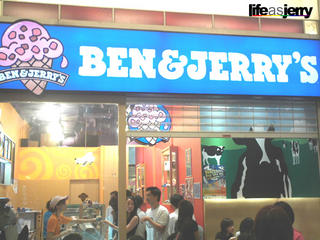 ..
..
..
..
..
..
..
Anyway, celebrated Dione's birthday during the week. Actually it was an impromptu one for me. Some of us happened to be in school for our project discussion, and Phelicia and Robin informed us that they are celebrating Dione's birthday and called the rest of us along. It was fun and did I mention that the cake was simply delicious!!! It was a macadamia cake, and the size of the cake, (quote unquote from what I said on that day), was bigger than Dione's face!! Anyway, it was delicious with the macadamia nuts, cream and white chocolate. How can I forget that the icing of the cake tasted like the 'Rabbit's Candy' that we love to eat when we were young (actually, still lovin' it..)? Orh, did I told you that the cake is from 'Secret Recipe' and they are having a 50% discount on whole cakes and '1 for 1′ special for slices? (well, I do not know whether the promotion is over or not)
Well well, it is seldom that I post photos of my school mates, and so… here it is!